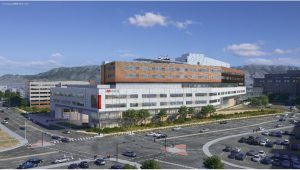 University of New Mexico Hospital – Patient Tower
The University of New Mexico Hospital is a 537-bed academic teaching hospital located in Albuquerque, New Mexico, north of The University of New Mexico's main campus. As the primary teaching hospital for the UNM School of Medicine, it is New Mexico's only Academic Medical Center and houses the State's only Level One Trauma Center, Children's Hospital and Burn Unit.  In addition to being the state's primary source of tertiary care, UNMH cares for a disproportionate share of New Mexico's uninsured and under-insured population as the region's primary safety-net hospital.
With the lender, our firm originated a $320MM Section 241 Loan, the proceeds of which will be used to fund the construction of an 8-story, 570,000 sq. ft. tower which will house 96 intensive care unit beds, an interventional platform, imaging suite, adult emergency department and support services.  The total Project costs are estimated at over $600MM.