NewYork-Presbyterian – David H. Koch Ambulatory Care Center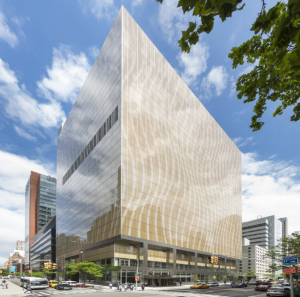 NewYork–Presbyterian ("NYP") has been using the HUD Hospital insurance program to fund capital projects since the early 1980s.  But in 2013 when they wanted to take advantage of the low interest rate environment to fund a portion of their $895 million Ambulatory Care Center, they were met with two challenges:
HUD typically doesn't issue a commitment for mortgage insurance until a project is fully-designed and the construction price is guaranteed, and NYP had only just started design of this project; and
The proposed construction was scheduled to take nearly five years, and the Ginnie Mae securities used to fund the loan price significantly higher when funds are drawn over an extended construction period.
NYP's CFO did not want to miss the attractive interest rate environment and challenged us to find a solution.  Working with NYP's finance team, construction team and HUD, we structured the loan so that it was initially and finally endorsed on the same day – a first for the HUD Hospital program.  Using this unique structure, all of the loan funds were disbursed to the Hospital at the closing, and held in escrow to pay project costs as design and construction of the facility progressed.  This structure required the development of a complex Building Loan Agreement, the procurement of a number of waivers of HUD's policies and regulations, and extraordinary collaboration.  But it was successful, and allowed NYP to get to market more than a year earlier than they would have in a "typical" HUD-insured transaction, and because the loan funds were disbursed at closing instead of over a prolonged construction period, the Hospital saved more than 100 basis points in interest rate.
After the loan closed and the project was underway, the Hospital decided to expand the scope of the project as a result of Hurricane Sandy and to add a Women's Hospital above the Ambulatory Care Center.  The additional project costs of over $500 million would be funded from the Hospital's own equity, but the addition of six new floors and 250,000 square feet to the project would add years to the construction timeline.  Since the loan was structured as a permanent loan and not a construction loan, there was no impact to the financing or the ability to finally endorse the loan.