Kaleida Health – Global Vascular Institute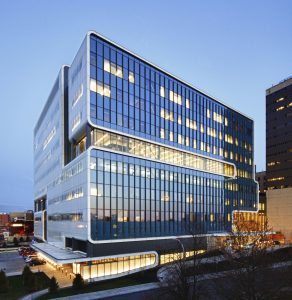 Kaleida Health needed to construct space on the Buffalo Niagara Medical Campus to relocate essential services from its Millard Fillmore Gates Circle Hospital, which was slated to close. A plan was crafted to develop a Global Vascular Institute ("GVI") on the downtown campus. The project was so appealing that the University of Buffalo ("UB") wanted to be part of it and establish a research center there, asking to take four floors in the building. This presented an interesting dilemma: UB needed to own, rather than lease, the space. Kaleida was using HUD-insured financing which required that Kaleida – and only Kaleida – own the building that was being mortgaged.
Our firm suggested a condominium structure that would allow Kaleida to own the entire building during construction, and then deed a portion of it to UB upon completion. We worked with Kaleida, UB, HUD, and the New York State Department of Health to structure a deal that satisfied all of the parties and the regulatory agencies.
Kaleida was given a chance to build a state-of-the-art facility and HUD recognized that the GVI was an extraordinary opportunity for Kaleida to build a project with $65MM of grant funds from the State. By sharing the core and shell costs with UB, Kaleida reduced their cost of the building and delivered an even more cost effective project.
HUD saw a borrower with a chance to change the face of its campus, and provided them the flexibility to do so.